Sunscape Curacao Resort, Spa & Casino ...
click HERE... for more Details, Pictures and Reviews...
Curacao
Enjoy a fun-filled getaway of a lifetime at Sunscape Curaçao Resort, Spa & Casino. Located near Aruba and off the coast of Venezuela, the 38-mile long island of Curaçao offers idyllic weather, exquisite beaches, spectacular snorkeling and much more to families, couples, singles and friends. At Sunscape Curaçao all guests will enjoy an Unlimited-Fun® vacation where everything is included from top-shelf spirits and daily refreshed mini-bar, to limitless food and beverages and endless daily activities. Guests can enjoy the on-site dive center at Sunscape Curaçao where they can catch a boat right at the resort to the National Underwater Park and enjoy diving and snorkeling at one of the most popular diving sites in the world.
There are 6 Restaurants:
World Café Restaurant - Open daily for breakfast, lunch and dinner.
Coco Café - Enjoy various coffees, teas, pastries and deli snacks
throughout the day.
Oceana Restaurant & Bar - Scrumptious seafood favorites served à la carte
in an outdoor setting, perfect for aromantic evening with your loved one.
Bluewater Grill - Casual lunch and dining under the stars with a
spectacular view of the Caribbean Sea serving a full array of regional and
international cuisine à la carte.
Himitsu Restaurant - A fusion of Pan-Asian delicacies.
Da Mario Restaurant - Authentic Italian food served in a relaxed,
friendly atmosphere with antipasto, saladbar and traditional pasta dishes.

INCLUDES

* Round-trip Airfare, Taxes
* All-Inclusive Accommodations
* All Meals, unlimited drinks (incl. alcohol), snacks, tips and more...





to price from your city - click here


Call 1-877-336-8747
Mon-Fri: 9:30-7pm ; Sat: 11-3pm E.S.T.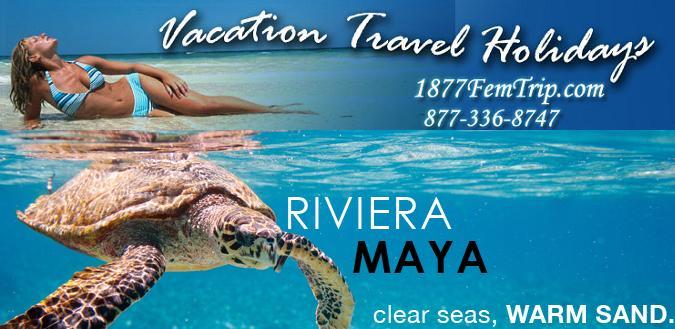 Last Minute Travel deals to Caribbean, Mexico, Hawaii and South America
HOW TO BOOK ONLINE
Select your departure, destination and the desired dates, and total number of passengers. - Then click

After searching our specials - next page will show all hotels that are available on the dates you selected
Based on total # of Passengers - you will see a total price for each hotel - for all passengers, including air, hotel and taxes.